Available
Prinsengracht 242
€ 30.000,- p/j
Description
Winkel-/kantoorruimte van circa 87 m² gelegen op de begane grond. Dit Rijksmonument is fraai en centraal gelegen in de Jordaan nabij o.a. De 9 Straatjes, de Dam en het Leidseplein. VLOEROPPERVLAKTEN Circa 87 m² verhuurbare vloeroppervlakte (VVO) Circa 101 m² bruto vloeroppervlakte (BVO) Meetrapport is beschikbaar. INDELING Begane grond Eigen toegang vanaf de straat. Vestibule, open ruimte voorzien van keukenopstelling. Afgesloten (winkel)ruimte…
Winkel-/kantoorruimte van circa 87 m² gelegen op de begane grond. Dit Rijksmonument is fraai en centraal gelegen in de Jordaan nabij o.a. De 9 Straatjes, de Dam en het Leidseplein.
VLOEROPPERVLAKTEN
Circa 87 m² verhuurbare vloeroppervlakte (VVO)
Circa 101 m² bruto vloeroppervlakte (BVO)
Meetrapport is beschikbaar.
INDELING
Begane grond
Eigen toegang vanaf de straat. Vestibule, open ruimte voorzien van keukenopstelling. Afgesloten (winkel)ruimte en berg-/opslagruimte gelegen aan de achterzijde. De scheidingswanden zijn niet constructief en zijn (gemakkelijk) te verplaatsen/verwijderen. Separaat toilet bereikbaar vanuit de hal. De gehele ruimte heeft een plafondhoogte van circa 2.60 m.
LIGGING
Het object is gelegen aan de Prinsengracht om de hoek van de Lauriergracht en schuin tegenover de Reestraat. In de directe nabijheid bevinden zich De 9 Straatjes met talloze winkels, restaurants en cafés. Op loopafstand treft u o.a. de Westerstraat, Magna Plaza, De Bijenkorf, de Kalverstraat, Rokin, de Dam en het Leidseplein.
BESTEMMING
Bestemmingsplan Westelijke Binnenstad geeft de bestemming Gemengd – 1. De volgende functies zijn mogelijk:
- kantoren;
- kantoren met baliefunctie;
- voorzieningen;
- galeries;
- detailhandel;
- consumentverzorgende dienstverlening;
- bedrijven;
- additionele horeca.
Additionele horeca
Horeca-activiteiten die ondergeschikt zijn aan de hoofdfunctie die ter plaatse is toegestaan en welke tot de hoofdfunctie worden gerekend. De horeca-activiteit vindt plaats in het verlengde van en ten behoeve van de hoofdfunctie. De horeca-activiteit mag niet zelfstandig worden uitgeoefend of toegankelijk zijn los van de hoofdfunctie. Wanneer de ruimte waarin de horeca-activiteit plaatsvindt is afgescheiden van de hoofdfunctie, mag deze maximaal 20% van het totale vloeroppervlak bedragen, waarbij toiletruimte, keuken en opslag ten behoeve van horeca niet wordt meegerekend. Vormen van detailhandel die zich richten op de verkoop van etenswaren en/of drankjes die in hoofdzaak worden meegegeven om direct te worden geconsumeerd is niet toegestaan.
OMZETBELASTING
Er is geen omzetbelasting van toepassing.
HUURPRIJSAANPASSING
Jaarlijks, op basis van het Consumenten Prijs Indexcijfer (CPI), reeks Alle Huishoudens (2015=100) voor het eerst één jaar na de huuringangsdatum.
HUURTERMIJNEN
In overleg.
ZEKERHEIDSSTELLING
Huurder dient een bankgarantie of waarborgsom te stellen ter grootte van minimaal 3 maanden huur.
BIJZONDERHEDEN
- winkel-/kantoorruimte van circa 87 m² VVO (meetrapport is beschikbaar);
- ruime bestemming met additionele horeca toegestaan;
- betreft een Rijksmonument en dus vrijgesteld van een energielabel;
- frontbreedte van circa 3.63 meter;
- geen omzetbelasting van toepassing;
- aanvaarding in overleg.
Retail/office space of approximately 87 m² located on the ground floor. This national monument is beautifully and centrally located in the Jordaan near De 9 Straatjes, Dam Square and Leidseplein.
FLOOR SURFACES
Approximately 87 m² lettable floor space (LFA)
Approximately 101 m² gross floor area (GFA)
Measurement report is available.
LAYOUT
Ground floor
Private access from the street. Vestibule, open space with kitchen layout. Closed (store) space and storage space located at the rear. The partition walls are not constructive and are (easy) to move/remove. Separate toilet accessible from the hall. The entire floor has a ceiling height of approximately 2.60 m.
LOCATION
The object is located on the Prinsengracht around the corner from the Lauriergracht and diagonally opposite the Reestraat. In the immediate vicinity are De 9 Straatjes with numerous shops, restaurants and cafes. Within walking distance you will find Westerstraat, Magna Plaza, De Bijenkorf, Kalverstraat, Rokin, Dam Square and Leidseplein.
DESTINATION
Zoning plan Westelijke Binnenstad gives the destination Mixed – 1. The following functions are possible:
- offices;
- offices with counter function;
- facilities;
- galleries;
- retail;
- consumer care services;
- businesses;
- additional catering.
Additional catering
Catering activities that are subordinate to the main function that are permitted locally and which are counted as part of the main function. The catering activity takes place in line with and for the benefit of the main function. The catering activity may not be performed independently or be accessible separately from the main function. If the space in which the catering activity takes place is separated from the main function, it may amount to a maximum of 20% of the total floor area, not including toilet space, kitchen and storage for catering purposes. Forms of retail that focus on the sale of food and/or drinks that are mainly given for immediate consumption are not permitted.
SALES TAX
No sales tax applies.
RENTAL PRICE ADJUSTMENT
Annually, based on the Consumer Price Index Figure (CPI), series All Households (2015=100) for the first time one year after the rental commencement date.
RENTAL TERMS
In consultation.
GUARANTEE
The tenant must provide a bank guarantee or deposit amounting to at least 3 months' rent.
PARTICULARITIES
- retail/office space of approximately 87 m² LFA (measurement report is available);
- spacious destination with additional catering facilities allowed;
- is a national monument and therefore exempt from an energy label;
- front width of approximately 3.63 meters;
- no sales tax applicable;
- acceptance in consultation.
Read more
Read less
Features
Transfer of ownership
Huurprijs

€ 30.000,- per jaar

Servicekosten

-
Layout
Oppervlakte totaal ca. 101 m2
Oppervlakte winkel ca. 101 m2
Construction shape
Hoofdfunctie

Winkelruimte

Building type

Bestaande bouw

Year of construction

1665

Frontbreedte

363 cm
Other
Maintenance inside

Redelijk tot goed

Maintenance outside

Goed
View all features
View fewer features
Floor plans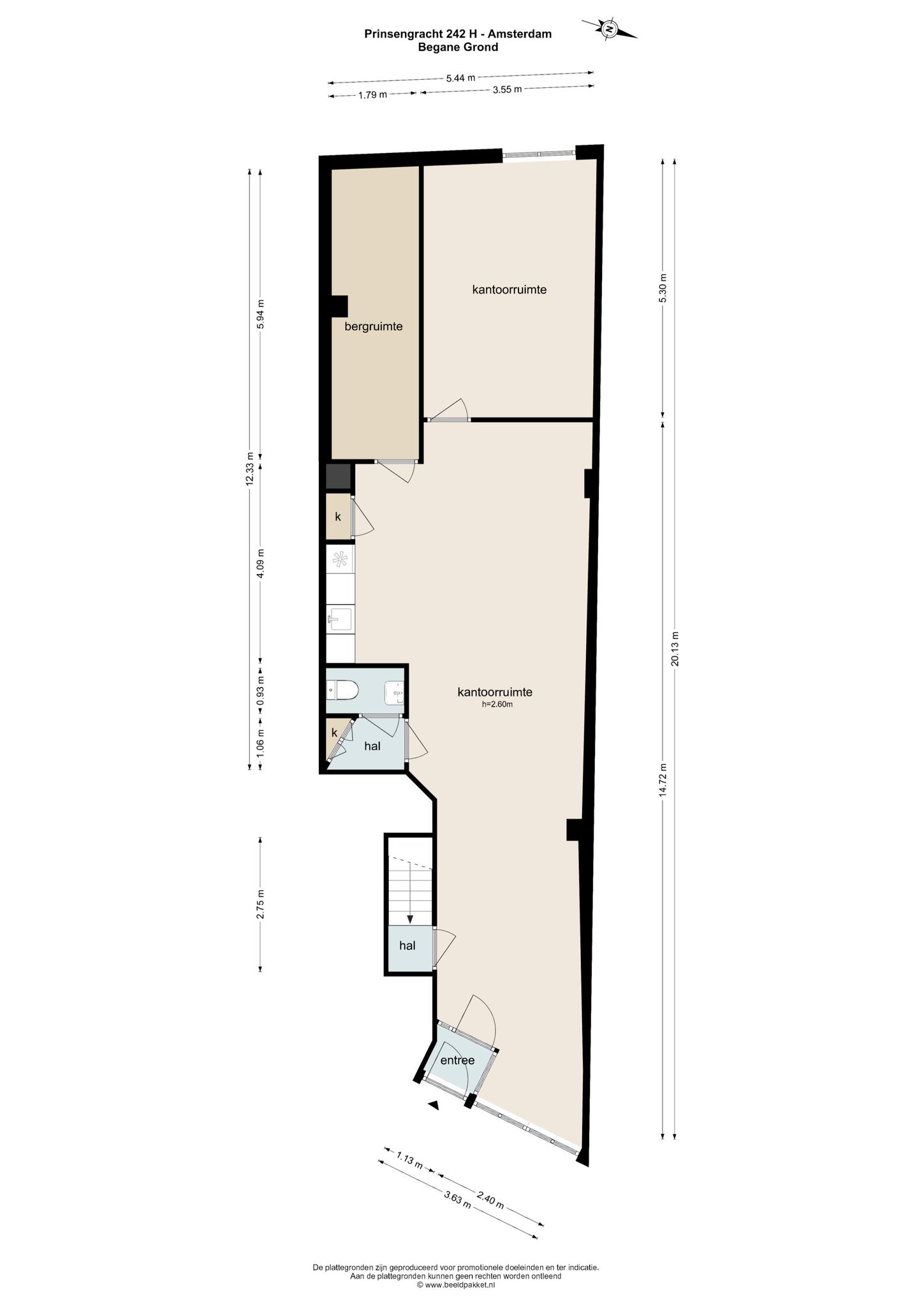 immediate contact
Please fill out the form below and we will be in touch as soon as possible.